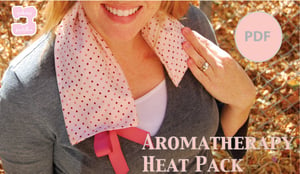 $

3.99 - On Sale
Introducing my newest pattern--perfect for gifts for the holidays! I, for one, am making one for each of my kids. They can be used as heat packs OR cold packs! It's amazing how many ailments a quick cold pack can fix ;)
This pattern includes instructions for the inner pack (including the filler material--where to buy it and how much to buy!) and the outer slipcover. I don't use or recommend rice because of the strange popcorn smell it releases when heated in the microwave. My heat packs have an all-natural filling that feels so smooth and hugs your neck so comfortably.
Fabric requirements:
1/4 yard muslin
1/4 yard fabric for cover
3/4 yard ribbon
Very inexpensive to make! The pattern comes with well-illustrated sewing instructions with full color photos. For a preview of how my PDF patterns are assembled, check out our
YouTube video.
This item will be emailed to your Paypal email address within 24 hours of purchase with few exceptions which can be found in our shop policies.