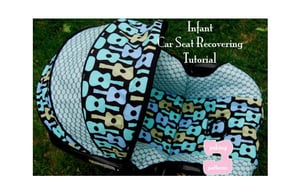 $

3.99
Every mom knows that car seat covers are baby's number one item that get dingy and dirty. They get stained, stretched, bumped, scraped, and just plain filthy! No matter how often you wash it, you can't escape the inevitable. Or maybe you're like me and bought a pink car seat and now you're having a boy . . . ;)
Whatever the reason, buying a brand new car seat just to replace the cover is simply a silly idea! This tutorial will teach you how to reinvent your car seat cover to make it beautiful and unique. The best part about my method is that you will use the original padding and original cover to create a brand new one. The manuals of all children's car seats state that no extra or different padding should ever be added to your child's car seat. My method follows these guidelines! Your original carseat cover will be RECOVERED. You won't be endangering your child's safety for the sake of fashion.
You'll receive a beautiful 15-page PDF with very detailed instructions and full color photos to show you how to recover your infant car seat and create a new canopy. Your car seat doesn't have to be a Graco Snugride like the one pictured. In fact, this tutorial will show you how to cover ANY infant car seat as long as the cover can be removed from the seat.
I email all my PDF patterns and tutorials within 24 hours of payment, with few exceptions that can be found in my shop policies. I have excellent feedback for all my patterns! I will email the tutorial to your Paypal address. If you need it sent somewhere else, please notify me when you check out.
Fabric requirements:
1 1/2 yards fabric A
1 yard fabric B (no nap)
OR 1 1/2 yards fabric B (with nap)
2-3 pkgs extra wide double fold bias tape