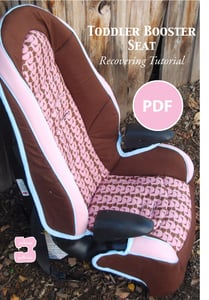 $

3.99 - On Sale
Since the launch of my Infant Car Seat Recovering Tutorial, I've had many, many moms contact me about recovering their toddler car seat. I answered the call!
This tutorial will teach you how to reinvent your car seat cover to make it beautiful and unique. The best part about my method is that you will use the original padding and original cover to create a brand new one. The manuals of all children's car seats state that no extra or different padding should ever be added to your child's car seat. My method follows these guidelines! Your original carseat cover will be RECOVERED. You won't be endangering your child's safety for the sake of fashion.
You'll receive a 13-page PDF with very detailed instructions and over 70 full color photos to show you how to recover your child's car seat. Your car seat doesn't have to be exactly like the one pictured, just similar. This tutorial will help you with any booster-type seat (even convertible ones that can go forward or backwards). This tutorial will NOT help if your cover is not removable.
I think this tutorial would be appropriate for intermediate sewists. The bulk of the seat makes some parts fairly tricky, but with a little elbow grease it is totally do-able!
I email all my PDF patterns and tutorials within 24 hours of payment, with few exceptions that can be found in my shop policies. I have excellent feedback for all my patterns! I will email the tutorial to your Paypal email address. If you need it sent elsewhere, let me know during checkout with Paypal.
Because toddler boosters vary, I can't tell you exactly how much fabric to buy, but I can tell you how much I used:
Brown Kona Cotton - 1 yd
Pink Kona Cotton - 1/4 yd no nap (with nap 3/4 yd)
Baby Ducks in Feather (by Lizzie House) - 1/2 yd